Moving to a new apartment can seem daunting. Packing, unpacking, cleaning- it's exhausting! Here are some tips to make your move less stressful.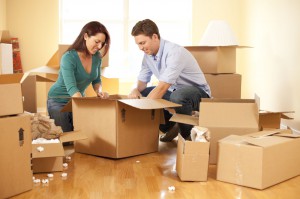 1. Start early- Don't procrastinate! If you are moving in 30 days, do NOT wait until the week before you move to start packing. The sooner you start packing, the less you have to rush. You can take your time, and make sure things are packed well, and in an organized fashion.
2. Label, label, label! If you're packing up an entire house, it's possible to have over 100 boxes of "stuff". Make sure you are packing like items with each other (for example, all canned food items together, and all towels together). As you pack, number each box and write a short description on the outside. Maintain a separate numbered log that gives greater details as to what's in each packed box. That way, if a week before you move you realize you must find Aunt Nancy's cookbook, a quick look at your list would reveal it's in box #4.
3. Clean as you pack- As you pack each box, evaluate the necessity of the items. It's better to get rid of unused items before the move rather than spend the time and energy moving them to a new home, only to throw them away or donate them soon after.
4. Make some money- This recommendation relates to tip #3. Weed out the items that you no longer need. Plan a yard sale before you move, or list the unneeded items on a local yard sale site, or eBay. Make some extra money from your unwanted items to help finance your move!
5. Organize what needs to be done- Make a list of everything that needs to be accomplished, and when. For example, if you need to rent a truck to move, make sure you've rented it far enough in advance. Contact the postal service to request a change of address and mail forwarding. Having everything written down means you can physically check off the items as you do them.
Moving can be a stressful event, but with these tips, you can reduce the stress and ensure it goes smoothly.