February 11, 2015 8:32 am
There is nothing nicer than fresh herbs when you are cooking. Unfortunately, they just don't last long in the refrigerator and a herb garden isn't a practical solution if you don't live somewhere with your own front yard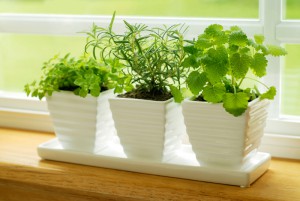 The perfect solution is an herbal window garden. If you have a kitchen window, you can grow your own fresh herbs right where you cook! Imagine just snipping a fresh branch of rosemary or parsley to toss in the soup pot or a bit of mint to add to your chocolate flan.
To get started, all you need are some containers, soil, and some herb plants or seeds. Seedlings are recommended since some herbs are difficult to start from scratch. Your local nursery will have seedlings for sale. You can buy a small bag of soil while you are at the nursery as well. Potting soil is perfect for your new plants.
As for containers, which ones you choose depends on the size of your window. You can get nice plastic or wooden planters at the dollar store or any large craft store if you want to plant everything together. Or you could go with smaller, individual planters. Add a couple of hanging ones in the corners of the window for extra herb-growing space!
Once you have your supplies, all you need to do is transplant your seedlings from their little cups to the planters. Put a layer of stones or gravel at the bottom of each plant pot to aid drainage and fill to within two inches of the top with potting soil. Now make a hole for your new plant.
Seedlings are delicate, so don't be yanking them out of their cups. Instead, put your hand over the cup, allowing the seedling to stick up between your fingers so you can support the stem. Turn the whole thing upside down and use your other hand to gently loosen the cup from the plant. Many seedlings will be somewhat root bound, so it might be difficult to get the cup off. As long as you are supporting the fragile plant, you can shake the cup a bit to get it off.
Now, turn your plant over and stick it in the hole you made in the planter soil. Gently tamp fresh soil down around the roots and give it a bit of water. Being transplanted can be a trauma to a small plant, so make sure it has enough water to recuperate.
Your new plants won't need much care. As long as they get daylight in the window and you keep the soil moist (not wet), they should thrive. Once they have reached about five inches in height, you can start snipping. The frequent cuttings will stunt their growth and make the herbs bushier, perfect for indoor growing conditions!